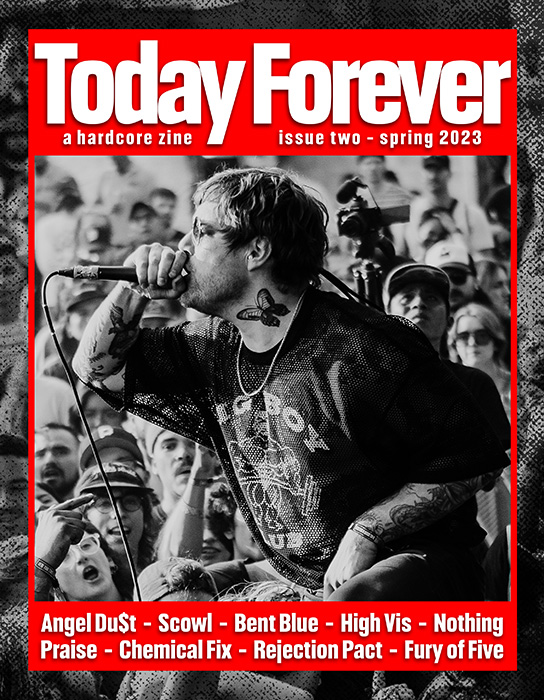 Today Forever is back with Issue 02!
Issue 02 is an expanded edition with 72 pages of interviews, photography, show reviews, and more! Once again limited to 300 hand numbered copies
European distro through Core-Tex Records.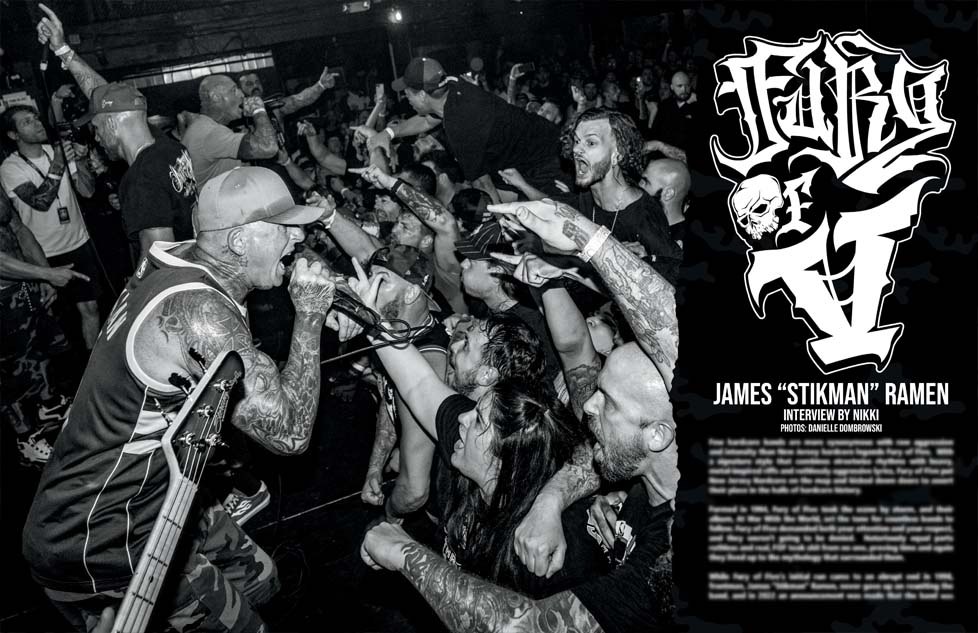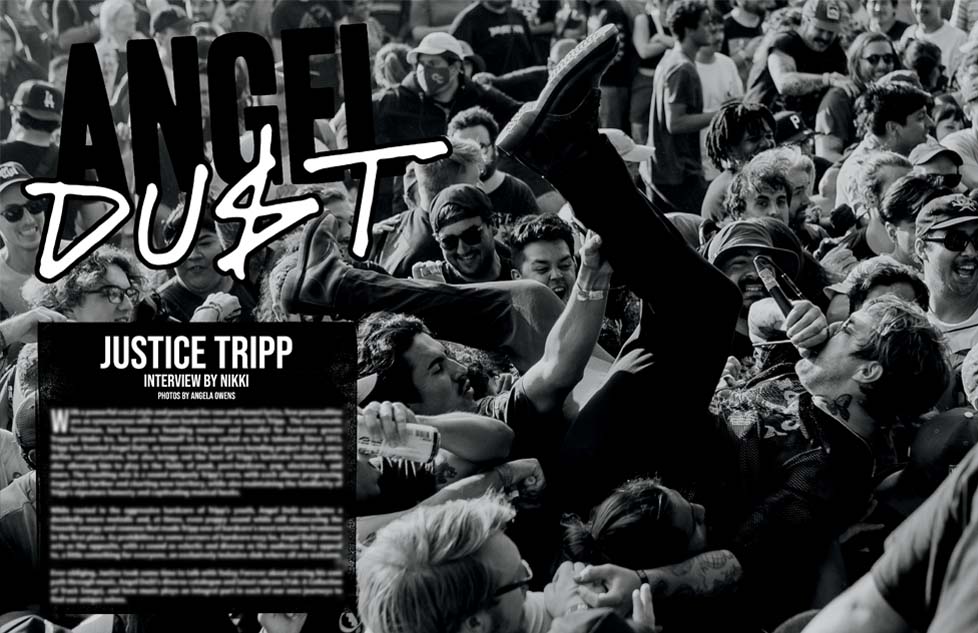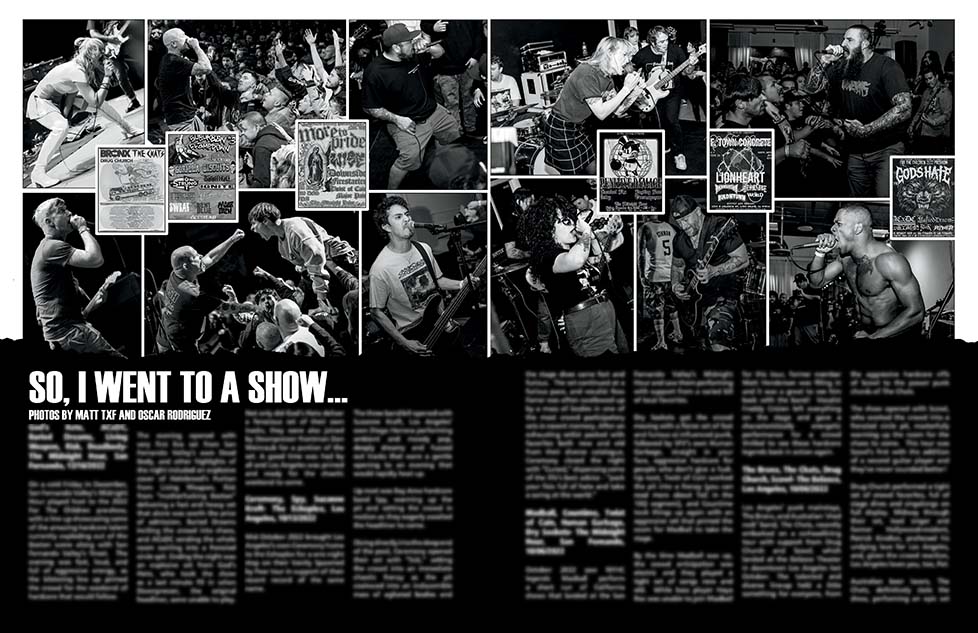 Featuring Interviews With: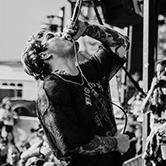 Angel Du$t

Since 2013 Justice Tripp has fronted Angel Du$t, an ever evolving and genre-bending project that defies categorization, building on his hardcore legacy and allowing him to play in the fields of punk, post-hardcore, pop, electronica, and more. While rooted in the aggressive hardcore of Tripp's youth, Angel Du$t navigates a decidedly more melodic and, at times, even poppy sound while still showcasing the frenetic energy and rawness that made Tripp one of hardcore's most notorious frontmen in the first place. TF spoke with Justice about carving his own path through music, Angel Du$t's diverse catalogue, and how music plays an integral part in each of our own journey's to find our unique selves.
Photo by Angela Owens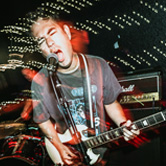 Bent Blue

San Diego's Bent Blue play fast, emotive hardcore with a conscience and unmatched energy that make them a force to be reckoned with in the modern hardcore landscape. Passionate about social and political issues, Bent Blue are urging listeners to greater action through their melodic hardcore with a message and Today Forever spoke with vocalist Tony Bertolino and guitar player Diego Montoya about the formation of the band, their latest EP, and the role art and music can play in changing the world for the better.
Photo by Cody Ganzer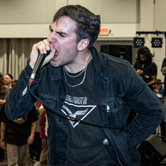 Chemical Fix

Formed in Philadelphia's thriving hardcore scene in 2018, Chemical Fix are reminiscent of the antagonistic and gritty hardcore that emerged from the early 2000s, but modernized and progressed into darker, more aggressive territory. The band released their debut LP, Our Shade Casts Far, on Safe Inside Records in 2021 and have since put out two new singles, "Strange Love," on One Scene Unity A Hardcore Compilation Vol. 3, and "Erase Me," a self released single that may be their most refined and confident offering yet. TF spoke with vocalist Bren King about the roots of the band, their experiences so far, and how they ended up dodging fireworks in a Sonic Drive Thru parking lot one fateful day last year.
Photo by Danielle Dombrowski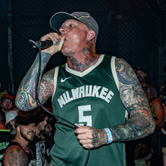 Fury of Five

Few bands are more synonymous with raw aggression and intensity than NJHC legends Fury of Five. Formed in 1994, FOF took the scene by storm, and their album, At War With The World, set the tone of countless bands to follow. Now, in 2023, Fury of Five are back with brand new music and a plans for a triumphant return to the hardcore scene they were so integral to creating in the first place. Today Forever spoke with Fury of Five vocalist, James "Stikman' Ramen about the history of the band and what they have planned as they retake their place as the rightful kings of NJHC.
Photo by Danielle Dombrowski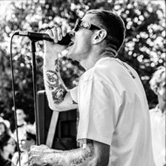 High Vis

Earlier this year, Jawbreaker reunited for a national tour in celebration of the 25th anniversary of Dear You, selling out countless shows and leaving us all wondering what's next. Adam Pfahler, Jawbreaker's drummer, archivist, and (arguably) driving force took the time to answer a few questions about Dear You, their time away, and what the future might bring for Jawbreaker.
Photo by Anna Swiechowska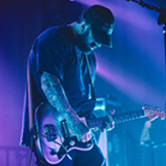 Nothing
Since 2011, Nothing has been Domenic Palermo's means of making sense of a senseless world, a way to find catharsis through the power and beauty of music. Critically acclaimed, Nothing is a turbulent marriage of shoegaze and indie rock in the throes of an existential crisis, and in this interview Palermo took the time to talk with Today Forever about the current state of Nothing, his experiences in the music industry, and how he somehow manages to find connection in the chaos.
Photo by Joshua Alvarez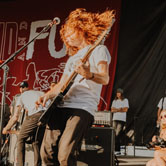 Praise
DC-area melodic hardcore band Praise carries the torch of the Revolution Summer sound as they prove themselves time and again to be masters of marrying melody and melancholy as they explore themes of self examination, hope, and resilience through their music. Guitar-player Anthony Dye spoke with Today Forever about the band's formation, their most recent LP, All In a Dream, and what the future may hold for Praise.
Photo by Oscar Rodriguez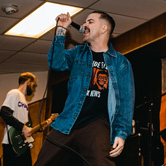 Rejection Pact

Born out of the vibrant hardcore scene that has emerged in Boise, Idaho in recent years, Rejection Pact play fast paced, socially charged hardcore with a modern spin, and they're using their music to address the social and political injustices all around us. Rejection Pact vocalist Devin Boudreaux spoke with Today Forever about Rejection Pact's music with a message and what put Boise on top!
Photo by Ashley Melton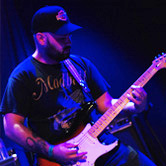 Scowl

Crashing through every obstacle in their way, this defiant and explosive quintet from Santa Cruz, CA have taken the music scene by storm and they're just getting warmed up. With the world at their feet and stars in their eyes, Scowl are blazing their own trail as they earn their place in the tomes of hardcore history. Malachi Greene spoke with Today Forever about Scowl's whirlwind experience in the music industry and what's coming next for the band.
Photo by Today Forever