For the Children 2022 Pre-Show at the Midnight Hour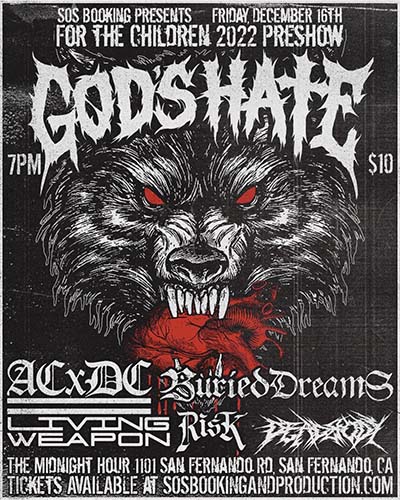 On a cold Friday in December, San Fernando Valley's Midnight Hour played host to the 2022 For The Children pre-show, with a line up showcasing some truly impressive hardcore bands currently exploding out of the Boston scene along with some of San Fernando Valley's finest. The evening was fast, loud, and full of aggressive energy, as the blistering line up primed the crowd for the weekend of hardcore that would follow.
The evening opened with the very first live set from San Fernando Valley's own Dead Body, and other highlights of the night included an explosive cover of Hatebreed's Puritan from Living Weapon, Risk from "motherfucking Boston" delivering a fast and heavy set that alone was worth the price of admission, Buried Dreams inciting the crowd into chaos, and ACxDC sending the whole room swirling into a frenzied circle spit.
Ending the night was an explosive set from God's Hate, who took the show as a last minute fill in when Downpresser, the original headliner, were unable to play. Not only did God's Hate deliver a ferocious set of their own material, they were also joined by Downpresser frontman Dan Weinraub for a portion of the show. The evening set the tone for the weekend of hardcore to come, and Los Angeles was definitely ready to show their holiday spirit For the Children.
Check out the amazing photos from our friend Oscar on his Instagram page below.
Photos by Oscar Rodriguez – https://bloomxco.com/

View this post on Instagram