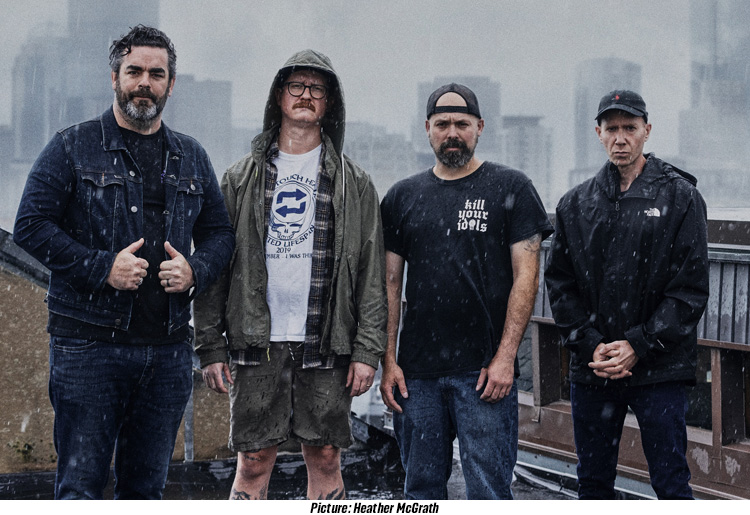 Pillars of the Boston hardcore scene, COA (Colin of Arabia) are back with a brand new EP, Trauma Dump, on Triple B Records, their first new music in over a decade. Recorded directly to analog tape, Trauma Dump is as raw as it is powerful. The band maintains their signature fast and heavy sound, ripping through 5 songs in 7 minutes, and the music is unthrottled with no punches pulled. This is COA turned up to eleven and front man Colin Campbell has laid all his cards on the table, with vulnerable lyrics that touch on issues of addiction, mental health, and self worth that so many struggle with yet so few discuss.
A larger than life figure in his own right, Colin Campbell recently took a moment to speak with me about the new EP, his epic history in hardcore, what inspired his incredibly raw and personal lyrics, and the state of hardcore today. Colin left no question unanswered and I hope you'll find the following interview as interesting and insightful as I did. Colin posed the question, "When you die, could they write a book about your life? Would anyone want to read it?" If this interview is any indication, I'm pretty sure they will.
Check out the brand new COA EP Trauma Dump, out now on Triple B Records and streaming everywhere!
Nikki: Trauma Dump is the first new music COA has released in ten years. What made 2023 the right time to write and release a new EP and how did you connect with Triple B to release the album? What made you skip the typical 2023 style roll out of preorders and singles and jump to directly dropping the entire album (streaming and physical media) all at once?
Colin: All of us have had some growing up to do. Guys get real jobs, like Nick who's a master electrician. Guys start families, like Mike, who has 2 kids. Mickey even grew up. He's a man now and has a mustache and a wife. I went off the deep again, went to jail. Came out and tried to address my issues. I had polyps removed from my vocal cords. A lot of shit went on with me personally. You try really hard to live and life gets in the way. Art comes from strange places. It's best not to be rushed. Rushing art just means you produce a bigger volume of art that's not as good. So here's the best 7 minutes money can buy, or not buy if you stream like I do. No harm, no foul.
We got to writing new stuff, Sam [Yarmuth of Triple B] has been a big supporter of the band for a long time. He was siked to put [the new EP] out.
As for the full drop of the album with records shipping immediately, if I may be so bold, preordering records fucking sucks. There's always a mix up at the plant or your record gets bumped for a major label paying bookoo bucks. The whole process of it is a dice roll. Having people get the record in the mail in a week is a great feeling for fans and collectors. Not having physical copies for a record party, all this sort of shit has happened to us in the past. This was just our way of sorting out the bullshit.
COA has maintained the same line up for a very long time and the friendship and chemistry between you seems to be inherent to everything you do as a band. Were any of the members reluctant to get on board to write and release new music? Would you have continued to move forward with the project if not everyone came back to the table?
The band is the band. You may see us add a second guitar player here and there. You will, in the coming months, see someone filling in for Mickey as he has personal things that are very important. These guys know a part of me that no one sees. I put my soul into this. You know how vulnerable that makes me? I'm just supposed to share that with new guys? In the time between our records I tried to jam with other guys, I never got past a practice or two.
You recorded Trauma Dump at Mystic Valley Studio in Boston with Alex Garcia-Rivera, who is known for his unique commitment to analog recording and use of restored vintage gear to maintain a raw sound and classic approach. What made you choose to record the EP entirely to analog and what was the process of recording like? How did it compare to other recording experiences you have had in the past.
I challenge every band to record this way. It's without a net. This was a test of everyone in the band. We knew going to Alex that he had a good grasp of the style we play, that he would help through rough patches, and, ultimately, get us sounding how we should sound. I think we got a hotter and louder sound than we ever had. The tape is the test. The magic is there's no magic.
Alex Garcia Rivera has the patience of a Buddhist monk. He's also got an attitude that can tell me, a person a lot of people don't want flipping out on them, that what I'm doing isn't good enough. "Go back in there and do it again, but this time do it good." He was serious, yet lighthearted, and his socks made me laugh.
The lyrics on Trauma Dump often seem rooted in self reflection and examination, and show a depth of introspection that can only exist with time and maturity. Do you feel these lyrics, (especially "Please Don't Tell The Boys" and "Tired of Shit") are amongst the most raw and revealing you have written? You have truly laid yourself bare on these tracks, what drives you to share such deep, personal feelings through your music?
I've always tried to address my inner issues with the band. I wrote "Please Don't Tell The Boys" about pillow talk. The things you can say to your partner, but could never reveal in the street. I think, as I've gotten older, poems come [more often] from a place of retrospection…than they do from rage. Now that I listen to the song and see the reaction it's getting, I see now it's not about pillow talk, it's about men's mental health on a bigger level. Every man has felt this way even if he's saying please don't tell the boys to himself inside.
As for "Tired of Shit," it came from bad days, sometimes too many in a row. Learning the hard way. Feeling emotionally bankrupt and spiritually unredeemable, [which] was how I felt for a very long time. Sometimes I still feel that way.
You often play provocateur, in your lyrics and in your life, and aren't afraid to run headlong into controversy and fear none when it comes to voicing (or backing up) your opinions. Do you see yourself as a controversial figure? Do you enjoy getting a reaction from your audience and from the scene at large? Do you ever regret taking on such a larger than life persona?
Stand up for yourself and your people. Always be there for a friend in need. I never shy away from having convictions about anything. I've always listened to people's positions, but made my own bed to sleep in. Sometimes that bed can be a very uncomfortable place.
If someone has a problem with it, punch me or fuck off. I am a controversial figure. I'm an animal with a gang. I understand that some people will not like me or like the idea of what I am. I'm not everyone's cup of tea.
If I'm at certain shows, I will get weird looks [over] my past behavior or my friends' behavior, or perceived behavior. There's myths about my behavior, but tell everyone everything is true because fuck 'em.
When you die, could they write a book about your life? Would anyone want to read it?
Can you tell us the story behind the name Colin of Arabia? Who originally gave you the moniker?
This band was not designed with longevity at the start. It was a funny little thing between Kris Mission [Rock Vegas Records] and I, an inside joke. I just said I would call the band that. That's why we have moved to COA. Make up what you want the letters to stand for.
You have been booking shows in New England for over 20 years. What is (in your opinion) the best or most memorable show you have ever booked and what show do you wish you could have booked that never happened? Is there a show that happened that you wish hadn't?
There's honestly so many that I have been a part of that it blends together a lot for me. I would have to go through old flyers to tell you about that particular show. You do know that I was on drugs most of the time, right? My memory can be jolted back, but takes some prompting. Sometimes I will see a flyer and remember something funny, like Mike from Cut Throat dressing like Clockwork Orange and busting a bottle over some schmucks head on Halloween, or when Iron Age stayed at the house and we drank 3 30-racks. Stuff like that comes back when I see the flyers.
When you're not busy writing and playing your own music, what have you been listening to? Where do you look for musical inspiration and what new music has caught your attention?
Let's just check the Spotify search real quick:
The Clash, David Bowie, Paul Simon, Creedence Clearwater Revival, Jawbreaker, Hot Water Music, the new Hives record. I've been listening to the Bouncing Souls a ton recently. The new Rancid record is good. Viagra Boys. Jets to Brazil, [and] The Strokes have been on my playlists. Blood for Blood, Dead Kennedys, Stiff Little Fingers, the Trouble, Jerry's Kids, and Slapshot are on constant rotation. Modern Life is War has been a recent rabbit hole. There's a blues band from Boston called GA-20 that I'm in love with. I'm also unapologetic about liking the Dropkick Murphys.
As for newer hardcore stuff: Restraining Order is the best band in hardcore. Conservative Military Image, Tino Valpa, C4, Regulate, Human Garbage, Final Gasp, Austin's new band, Haywire. The new Death Before Dishonor single is awesome. Fuming Mouth, Life's Question. Broken Vow, Anklebiter, Wreckage from Connecticut. The Rejekts is a demo I love. Risk's new split is good and they are a great live show, and have recently been sponsored by Bud Light. Street Power (again).
As multi decade veterans of the hardcore scene you've seen hardcore evolve and change in countless ways, to a scene that today, at times, barely resembles its own beginnings. How do you feel about hardcore in 2023? Is it daunting to return with new music at a time when the hardcore landscape has changed so dramatically with the advent of widespread social media and an ease of access that didn't exist even 10 years ago?
Hardcore is less about the music being made and more about who is making the music. People with history in hardcore bands will start less abrasive bands that remain hardcore bands. Is Turnstile a hardcore band? Is Fiddlehead a hardcore band? The answer is, I dunno, and I don't care. It's guys I know making music that is cool and they are doing well with it. Gods bless 'em. With that being said, I think a lot of newer people are Hate56 kids. People who got into this over the pandemic watching Sonny's videos. I think he singlehandedly grew the movement. Gods bless him, too. He's also archiving VHS videos from the 90s that only I want to see.
I love hardcore when the scene is big, I love hardcore when the scene is small. I like it for different reasons. It ebbs and flows. I could talk for hours about this, so that's a question for a drunken lecture.
From this we are getting a lot of new kids that I don't think understand that hardcore is not a safe space. Hardcore is a subculture of a subculture. Hardcore exists because punk or metal was not abrasive enough for some people. I'm one of those people. We are accepting of everyone, but if you think I'm going to treat your bullshit with kindness, you can kindly go fuck yourself. The scariness of hardcore is something that attracted me to it.
I love Boston hardcore. It has so many little facets. Just when you think the scene is not as cool as it once was, you were just looking in the wrong place. It's great to see new bands. I love that there's regional bands here that no one has heard of outside of Boston that are going strong. I love the people and when newer kids come consistently. Sometimes we even give them nicknames because we like their pit moves or the way they dress. It's been very cool to be involved in something for so long.
In other recent interviews you have alluded to the fact that Trauma Dump is only the beginning of new music for Colin of Arabia. Can you give us any clues about what we can expect next from COA? Do you have any upcoming plans for shows or tours?
We are planning a record release show. We are playing America's Hardcore Fest. Maybe if we are lucky, and I suck the right dicks, we can become one of those fest circuit bands. That's the fucking ticket nowadays. Why tour when 1000 kids come to the regional fest? Whose dick do I gotta suck to get flown into these events?
We will also do some regional weekends all over New England and the North East, but mostly I want to suck some dicks to get onto these fests. If you got a fest and a dick to suck and you're reading this, hit me up.
What's the wildest story you've ever heard about yourself? Is it true?
There is a post on Lambgoat [from like 2005] that says I'm always on PCP. And that I kick people in the face from [the] stage. You kick 2 people in the face and then that's everyone. I think it would be hard to operate if I was ALWAYS on PCP. Not to say if I'm in Philly I won't smoke some dust, it's the regional delicacy. Say"perhaps" to drugs.
As we close the interview, are there any shout outs you'd like to give or anything you'd like to touch on that we missed?
My wife informed me that I don't shout her out enough in these interviews, so if you read this Katie, I love you. Thanks to the boys in the band. Alex Garcia-Rivera, Linus Garsys, Heather McGrath, Sam Yarmuth for all making the new record come to life. FSU, BHC, and anyone who's interested enough to read my ramblings this far. We're all here because we're not all there.